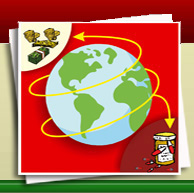 Una organización internacional sin ánimo de lucro para fomentar el acceso y el uso adecuado de medicamentos entre la población hispano-parlante
Contents of Boletines Fármacos
Until 2015, each issue of the Bulletin contained an editorial, The Open Window (Ventana Abierta), and six sections. Each section included research articles (some peer-reviewed and others previously published in scientific journals and newsletters); abstracts from different sources on a specific theme; news from public and private organizations and the media; interviews, and other communications.  It also includes reviews of books and reports, information on upcoming conferences, meetings, and educational opportunities, and new electronic links.  In 2015 these sections were reorganized in four different bulletins, but the categories of information remain the same. The first volumen is entitled Pharmacovigilance and appropriate use of pharmaceuticals and includes the first and last sections of the original bulletin, which are mentioned below. The second volume corresponds to the Section on Economy and Access, the third results from merging Ethics and Law and Clinical Trials, and the fourth corresponds to section of Drug Regulatory Agencies and Policy. A description of the main sections follows.
Pharmacovigilance (Advierten),  includes information about issues with pharmacovigilance systems, market drug withdrawals, changes in drug labeling, adverse reactions and interactions, and precautions.
Ethics and Law, with information related to the behavior of the pharmaceutical industry and other pharmaceutical actors, conflicts of interest, publicity and promotion, adulterations and falsifications, and litigation.
Clinical trials, about the globalization of clinical trials, ethical aspects; methodologies, including a discussion on the designs which may contribute to violations of the human rights of trial participants and compromise data quality; conflicts of interest in the approval and implementation of clinical trials; issues related to informed consent and regulation of clinical trials, clinical trial registries, and the dissemination of clinical trial results.  Of particular interest is information about the transparency of the regulatory agencies, of the pharmaceutical companies that sponsor the research, and of the Contract Research Organizations (CROs).
Economy and Access, includes information about Free Trade Agreements, patents and market exclusivity and, and their impact on access to pharmaceuticals.  Also discusses issues related to generic drugs, drug prices and their impact on accessibility, and the organization of the industry and the pharmaceutical marketplace.
Regulatory Agencies and Policies includes information about the regulatory agencies and pharmaceutical policies in different countries.
Prescription, Pharmacies, and Drug Utilization is a section about the roles and behaviors of different actors (prescribers, distributors, pharmacists, and patients) and activities (prescribing, distributing, dispensing, and utilization) that have an impact in the appropriate use of medications, with recommendations on how these processes may be improved.
The Pharmaceutical Bulletin has permission from Worst Pills Best Pills and from Prescrire International to reproduce in Spanish any relevant information.
modificado el 9 de Enero de 2019